Trendy Hair How-To: Get Rowan Blanchard's New Look by Celebrity Stylist Laurie Heaps
For this Tuesday's trendy hair how-to, we turn to actress Rowan Blanchard. She has gone even shorter for Fall with a 90's inspired chop by celebrity stylist Laurie Heaps. Get the look below.
Happy Tuesday beautiful! Since today calls for a step-by-step, Ask the Pro Stylist has a trendy hair how-to from celebrity stylist Laurie Heaps.
Actress Rowan Blanchard unveils her new haircut by celebrity hairstylist Laurie Heaps. In total, cutting off almost 12 inches in just a few months! Laurie Heaps explains…
We went shorter about 2 months ago. Rowan really wanted more of a change, even shorter. Last time, we went to the collarbone and this time we want it to clear her shoulders. I felt like she was ready for something shorter – chic but still effortless. The undone beauty of the French girl always inspires me. And I love everything 90's right now.

In addition, I really wanted her new cut to clear and expose her shoulders. Her face is oval and works with every look. This cut looks great on her. Especially, when she wants to dry it naturally.
The current hair trend is hipster texture, a 90's bob with the edge of the time. To cut and style Rowan's hair, Heaps offers the trendy hair how-to below. By the way, the cutting guide is for pros only readers. Do not attempt to do this at home.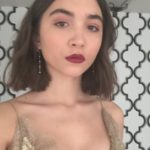 First, cutting a blunt bob achieves the foundation.
Next, use the shears to notch into the ends to cause a disconnect.
In addition, use a razor to slightly soften the disconnection.
Following the blowout, I cut more into the edges again to keep it modern.
Use the Biosilk Titanium 1″ Flat Iron with White Sands Liquid Texture Medium Thermal Styling Spray to create textured waves.
After sectioning the hair, create the waves by starting at brow level and then work your way down the hair.
The key to this technique is moving your wrist in opposite directions. Additionally, I left the ends straight for an effortless look.
To finish, use the OUAI Finishing Crème through the ends for texture.
Finally, apply OUAI Soft Hair Spray.
For more trendy hair how-to, visit next Tuesday. Until then, happy styling!
©Deirdre Haggerty, ALL RIGHTS RESERVED. It is unlawful to reproduce this article or any part therein without prior written permission and consent from the author.