Social Media Mayhem: Kardashian, Mathers & Grimes…SMH
Social media mayhem is filling the Internet with hatred and bullying. Apparently the tragedies occurring daily are keeping attention whores from the limelight. As a result, loudmouth "celebrities" are taking to Twitter, Snapchat, and Instagram with disgusting rants about others. Khloé Kardashian, Dani Mathers and Miko Grimes should all bow their heads in shame. Then, they should vow to stay away from online postings.
Happy Monday beautiful, and welcome to Ask the Pro Stylist's Hair Police rant of the week! As the world grieves dreadful acts of terror, senseless murders of police officers and the heartbreaking deaths of Alton Sterling and Philando Castile, 2-bit celebrities stir a pot of idiotic social media mayhem. The result: body shaming, hurt feelings, and thankfully, intelligent responses from actresses and models with class. This ugly behavior seems to be an ongoing subject as of late.
Let's start with Kim Kardashian West who shared an illegal recording on Snapchat of a conversation between husband Kanye and Taylor Swift. Actress Chloë Grace Moretz had something to say regarding the feud, asking "everyone in the industry" to pay attention to what is "ACTUALLY happening in the REAL world."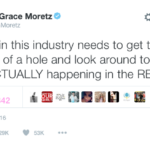 However, Khloé didn't appreciate the jab at her sister and brother-in-law, thereby shooting back with an inappropriate photo of the 19-year-old. Chloë Grace didn't respond in kind, yet merely put up a picture of the real photograph of herself amid shooting Neighbors 2.
What has amassed attention though is Ruby Rose's reply to Kardashian, "Yo Khloe I thought you were rad when I met you but this is awful and this is a 19- year-old girl." Yeh, a bit disgusting Khloé, but so happy to see cooler, level heads prevail.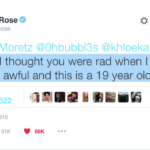 Today's social media mayhem piece stems from an article and news story I read last week regarding Miko Grimes. The wife of Tampa Bay Bucaneers blames Dolphins owner Stephen Ross and GM Mike Tannenbaum for her husband's cut, throwing anti-Semitic rants out on Twitter, and responding with a "Suck My Dick!" Peachy!
NO Miko Grimes, you don't have a dick! What is happening with this world? Why do young women tell others to SMD when in an argument? That is not feminism, and no you don't have a dick, unless you are full transgender. Go back to school Miko Grimes and learn how to tell someone off intelligently.
If you think you are funny or cool telling another man or woman to suck your dick, think again. If a man says it he is a pig, and young lady, you just sound ridiculous.
And finally, the worst of the social media mayhem this week hails from Dani Mathers, Playboy's 2015 Playmate of the Year. Dani revealed her ugly side, snapping a photo of a fellow gym-goer showering and posting it to Snapchat with the caption, "If I can't unsee this, then you can't either." Nice! So, if we aren't plastically perfect we can all fear our bodies will somehow end up on the Internet. You Ms. Mathers are the vilest offender of the day.
Thankfully, Dani can no longer attend L.A Fitness and has been suspended from her radio show. In conclusion, the police are also investigating. Let's hope charges are brought against, which would make others think before participating in their own social media mayhem.
©Deirdre Haggerty, ALL RIGHTS RESERVED. It is unlawful to reproduce this article or any part therein without prior written permission and consent from the author.