New Lightweight Foundation Plumps, Smooths And Has Buildable Coverage
A new lightweight foundation that plumps, smooths and has buildable coverage sounds too good to be true. However, it's not! Find out why in this week's beauty review.
TGIF beautiful, and welcome to Ask the Pro Stylist's beauty review of the week.  This Friday's favorite is a new lightweight foundation. It plumps, smooths and has buildable coverage.
Osmosis Colour Mineral Cosmetics launches its latest makeup. Since Performance Wear Satin Foundation Line is perfect for aging skin, I had to sample. It's that light dewy look you love. Plus, it has an additional glow. As a result, your skin screams youthfulness.
In addition to long-wearing, buildable coverage the makeup has a feathery, lightweight feel. This silky-smooth foundation has time-fighting skin care benefits. It smooths and plumps using Dermaxyl. The anti-aging feature stimulates cell communication. As a result, wrinkles are smoother and skin is plumper.
Each application repairs age-related skin damage. As a bonus, environmental protection also defends the skin from free radicals. With 5, gluten-free and vegan shades from Natural Light to Beige Dark, there is one for all skin types.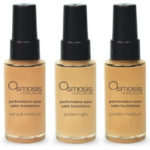 Featuring calming chamomile and hyaluronic acid, the line further promotes anti-aging and hydration. As a result the look is flawless and rejuvenated. Simply apply over face to create a smooth finish. For optimal coverage, layer as needed.
I cannot recommend enough. Truly, it feels light when wearing, even after layering. And I love the dewy look. It's not too much, but just enough. In addition, it gives a youthful appearance without creasing, caky makeup in your wrinkles.
Comparing to other beauty brands, which incorporate anti-aging benefits, this makeup is quite affordable. What are you waiting for…visit Osmosis Colour and purchase it now!
If you have a beauty product like this new lightweight foundation up for review, please email at DeirdreAHaggerty@gmail.com. Until then, happy styling!
©Deirdre Haggerty, ALL RIGHTS RESERVED. It is unlawful to reproduce this article or any part therein without prior written permission and consent from the author.