Low Ponytail Style Guide For Everyday Or A Night Out
Today's low ponytail style guide is perfect for everyday or a night out. Since it is Tuesday, it's time for another Ask the Pro Stylist. And again, it comes straight off the fashion runway.
Happy Tuesday beautiful! As such it is time for another How-to with Ask the Pro Stylist, a low ponytail style guide.
In celebration of NYFW Redken Global Creative Director Guido brings classic femininity from Tory Burch's FW 2017 Show to readers of Ask the Pro Stylist. The low ponytail style with black velvet ribbon is ideal for office or an evening out.
According to Guido, "This season at Tory Burch, both Tory and I took inspiration from Katharine Hepburn in the movie "Philadelphia Story." To me, very clean hair can enhance individual texture. The shiny hair evokes a romantic, sophisticated, soft, pretty look. Additionally, the center part vs. a side part gives a more girly, feminine touch that very much speaks to the Tory Burch brand."
To get the low ponytail style, please follow Guido's directions below.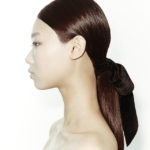 First, prep the hair with Diamond Oil Shampoo and Conditioner to cleanse the hair and add shine.
Next, create a messy center part using fingertips.
In addition, apply Satinwear 04 to the top section of the hair and around the hairline.
Using fingers, blow dry the hair downwards to smooth out any frizz. Then use hands to flatten the hair at the top.
Lightly blow-dry the lengths of the hair, keeping its natural texture.
Pull hair back into a low ponytail close to the nape of the neck and secure with an elastic band.
If necessary, use a curling iron sparingly throughout the length to create added texture.
Finally, tie a wide black velvet ribbon around the elastic into a loose bow.
Finish with a spritz of Fashion Work 12 Hairspray. As a result this keeps the crown of the head smooth.
In addition, if desired, use fingers to pull out a few face-framing baby hairs to soften the look.
For more how-tos similar to today's low ponytail hair guide, please visit next Tuesday. Until then, happy styling!
©Deirdre Haggerty, ALL RIGHTS RESERVED. It is unlawful to reproduce this article or any part therein without prior written permission and consent from the author. This post contains affiliate links, compensating Ask the Pro Stylist if you make a purchase via clicking on such.