Loose Braid Guide: Learn How To Create a Loose Braid
With today's loose braid guide, you will create a look straight off the runway. Learn how to create a loose braid just in time for the warm weather.
Happy Tuesday gorgeous! As such, it is time for another Ask the Pro Stylist How-To. This week we learn how to create a loose braid with the help of Guido, Redken Global Creative Director.
Braids are relatively easy to master. However, creating a loose braid with texture that lasts all day is a bit more difficult. Since the hairstyle will always be on trend, the approach of Spring is ideal to revamp a favorite look.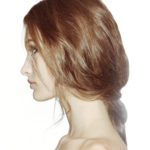 This season, Redken Global Creative Director Guido capitalizes on dark romance at Alberta Ferretti's FW 2017 Show. According to Guido, "It's classic Ferretti with very romantic." Taking inspiration from the romantic charm of Venice, the Redken stylist accentuates the dark, gothic makeup with a loose braid. "I curled the girls' length for additional texture then use Wind Blown 05 all throughout the lengths for a drier texture. The braid is soft and loose with nice pieces pulled out at the front. It's really a look that any woman could recreate"
To get the loose braid from the runway, follow the instructions below.
To begin, prep hair with All Soft Shampoo and Conditioner to cleanse the hair and add softness and shine.
Next, create a center part using fingers.
Allow hair to air dry. If hair is straight, use a curling iron on the length. As a result, this will add a little bit of texture.
Spray Wind Blown 05 all throughout lengths, ends and at the crown for a dry spun, windblown texture.
Loosely braid the length, starting at the nape of the neck until the ends of your hair. Secure with a black hair tie.
Finally, using fingers, pull out face-framing pieces around the crown and around the ears.
In conclusion, use a few bobby pins to pin back 1-2 face framing pieces slightly behind each ear for a romantic look.
For more how-tos similar to this week's loose braid guide, visit next Tuesday. Until then, happy styling!
©Deirdre Haggerty, ALL RIGHTS RESERVED. It is unlawful to reproduce this article or any part therein without prior written permission and consent from the author. This post contains affiliate links, compensating Ask the Pro Stylist if you make a purchase via clicking on such.