Blow-dry Tips: How To Get A Salon Quality Blowout
Blow-dry tips are on today's agenda. Learn how to get a salon quality blowout at home with a few tricks in this Wednesday Q&A with Ask the Pro Stylist.
Whoop, whoop it's Hump Day beautiful! As such it is time for another Q&A with Ask the Pro Stylist. On this week's agenda; blow-dry tips.
So, "how can I get my hair the same way you do it?" Or, "show me how to blow-dry my hair the same way you do!" I often hear this. As a matter of fact a client asked this the other day. Since the weather is getting cooler, and we are not leaving the house with wet heads, now is a good time for my blow-dry tips.
To begin, be sure you are using the right hair care products for your texture and condition. This is a conversation you should have with your professional. While I recommend many beauty and hair items, without seeing your hair, I might as well talk to the wind. Among the hair care you should use; shampoo, conditioner, leave-in or other thermal protectant spray, and either a gloss or cream to tame or a thickener to add volume. I am not a fan of mousse. I feel it dries out the hair.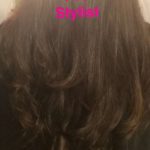 In addition, invest in a good paddle brush and a round brush that works for your hair length. Again, your stylist is the best to suggest a size for your hair.
When in a rush in the morning, use the paddle brush on your root area to about mid-shaft. Then, section the hair and from the bottom up and use your round brush to create your style. Please note: the sections should be the size of the barrel of the brush.
To finish, be sure your hair is completely dry before leaving the house. Even in the winter there is humidity. If the hair has a bit of moisture left in, it will expand once outside. Add gloss or whatever finishing spray you desire. Finally, purchase a dry shampoo to keep your style a few days.
If you have a question for me similar to this week's blow-dry tips, please email me at DeirdreAHaggerty@gmail.com. Until then, happy styling!
©Deirdre Haggerty, ALL RIGHTS RESERVED. It is unlawful to reproduce this article or any part therein without prior written permission and consent from the author. This post contains affiliate links, compensating Ask the Pro Stylist if you make a purchase via clicking on such.