Best Botox Injection Sites: How To Look Younger With Fillers & Botox
The best Botox injection Sites are right here on Long Island. Look younger with fillers and Botox without breaking the bank. In addition, results are natural and long lasting (when done right).
Happy Monday gorgeous and Happy New Year! Well, I did it! For my 50th birthday I gave myself the gift of a facial filler. And I must say, Long Island Dermatology is one of the best Botox injection sites on Long Island.
So, instead of the usual Hair Police with Ask the Pro Stylist to head up the week, I am starting a new Monday series; looking younger after 50. Consequently, this week's Botox and facial filler secret. And no, I am not embarrassed. As a matter of fact, more younger women are the recipients of Botox and fillers than ever.
Why Botox Injections and Fillers?
I fell in love with my SilkPeel Dermal Infusion. As a result, I had a consultation with Carmine, the  Physician Assistant at Long Island Dermatologist in Manhasset. In December, I celebrated 50 years and succumbed to the urge to take some of that time off my face. I always looked fatigued and wanted to freshen without looking plastic.
To be honest, creams, serums and scrubs were temporary. I wanted a more lasting effect.
Carmine understood and recommended a filler (Juvéderm) in my nasal labia fold and near my cheekbones and also Botox injections in my forehead. The day of my appointment, nerves ran amok. However, the numbing cream and ice really did the trick. A slight pinch is all you feel.
Filler and Botox Results
There was slight bruising near the area where the under eye meets the cheeks. Results of the wrinkle filler could be seen immediately. The Botox took a few days to kick in. But when it did, my forehead became smooth and my eyes slightly lifted. As a result, I do not look as weary as before. Also, I feel great and that is all that really matters. While the lift of eyebrows could be problematic, thankfully mine are in the same location, which isn't always the case.
The cost is affordable, with results of the Juvéderm lasting up to a year. Therefore, it  essentially pays for itself.
After Photos
Now, as many of you are aware, I hate pictures of myself, especially unfiltered, no-makeup photos. However, as a service, I feel it is important to see the before and after without makeup. As you can tell from the photos, the results of the Juvéderm are immediate. I am very happy. Additionally, the entire procedure looks very natural.
The Snap Chat pics are just for fun, showing me without makeup after the injections.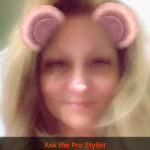 For more information contact Long Island Dermatology at (516) 472-7546, 1615 Northern Blvd., Suite 400. Manhasset, NY is the location of one of the best Botox injection sites in New York. I cannot recommend Carmine enough! He is an artist!
©Deirdre Haggerty, ALL RIGHTS RESERVED. It is unlawful to reproduce this article or any part therein without prior written permission and consent from the author.