Best Beauty Treatments: SilkPeel Dermal Infusion Facial
The best beauty treatments are at your fingertips. Well, actually at the esthetician's fingertips with the SilkPeel Dermal Infusion. Ask the Pro Stylist recently had her first treatment and could see results immediately.
Happy Sunday gorgeous! Sorry for the absence. But, with working at ARROJO Cosmetology School time seems to slip by. BTW, if you are looking for a career in cosmetology or ARROJO's new barbering program, visit the schools in SoHo or Tribeca for a tour. Today, however, I must brag about a new skin care experience. It is one of the best beauty treatments available for younger looking skin.
Recently, Long Island Dermatology invited Ask the Pro Stylist to receive a SilkPeel Dermal Infusion. To be honest, I had flashbacks of Samantha from Sex in The City after her bad chemical peel. However, I agreed and couldn't be happier.
As a result, I am returning to Long Island Dermatology in Manhasset for follow-up visits. While I hate videos or photographs of myself, the images depict the Silk Peel Dermal Infusion treatment.
To begin, a consultation determines your skin's requirements. As I will be 50 in a month, I have some hyper-pigmentation in addition to fine lines and wrinkles. As a result, Annette chose a combination of serums to brighten and add volume to my skin. In addition, the next day my students did notice and comment that my skin was glowing.
You will see the effects immediately. However, for optimal results, a session of 6 treatments are recommended. You could choose from the Ultra Hydrating, Vitamin C, Skin Brightening or Pore Clarifying serum or a combination depending upon your needs.
The SilkPeel Dermal Infusion is also ideal for acne, inflammatory skin, photo damage, melisma, and solar lentigos. The skin care machine exfoliates, extracts and infuses the skin with the proper serum for your skin; an all-in-one best beauty treatment.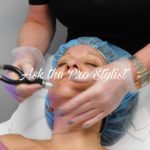 Call (516) 472-7546 to set up your appointment for a silk peel facial with Annette. I highly recommend the SilkPeel Dermal Infusion for younger looking skin. They are located at 1615 Northern Blvd., Manhasset, NY 11030.
I plan on returning to Long Island Dermatology for Botox and/or fillers. Never had it done and now it is time. Be on the lookout for before and after photos coming soon. Fifty is getting to me.
If you have a beauty product or your version of the best beauty treatments for review, please email at DeirdreAHaggerty@gmail.com. Until then, happy styling!
©Deirdre Haggerty, ALL RIGHTS RESERVED. It is unlawful to reproduce this article or any part therein without prior written permission and consent from the author.